Earlier this year, OpticsPlanet teamed up with Vortex Optics to give away a dream hunt to one of our customers. We ran the contest through Facebook and last month I was lucky enough to be chosen to tag along with the trip!
We were off to Arnold, Nebraska for a 5 day trip hunting deer at the Hidden Valley Outfitters ranch. But before we could go, I had to make sure I was well prepared for a trip. I am an Eagle Scout, but it's been years since I've been camping and I've never been hunting.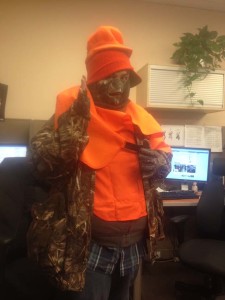 Luckily, some of my hunter coworkers were gracious enough to lend me some gear, so I'll fit in with the camouflage while still having my legally required amount of hunter's orange on my head/shoulders/chest/back. As you can tell from this picture, I was quite excited for the gear and tried on everything at once!
Once we got to Nebraska, it was beautiful country. Usually when you think Nebraska you think flat lands, but that's not the case at all. You have forests, sand  hills, and all sorts of terrain. Which made it beautiful.
The other thing to consider was I was on both video and still duty, so I was loading both cameras with spare batteries, microphones, and all the accessories with me. I put the recap video I did below, and something to take into consideration is all that hiking they did, I had to do too. Standing on top of a big hill, I had to go up that hill also, and I'm not in the best of shape. But the guides were gracious to slow down for me without drawing attention to it.
I'm really happy with the way the video turned out, especially since it was in the field, I was the only video person there, and no lights for the indoor shots. Also, working with all non-professional or even acting talent and getting great answers out of them. Definitely something I'm proud of.
I definitely earned my stripes while out there, as you can see in the video, it was snowy and the hills were steep. We were stalking a deer one of the hunters shot, and while going along a steep incline I lost my footing and slid a good 60 yards down to the tree line!
It looked bad enough that everyone sounded incredibly concerned when asking if I was okay. Luckily, I avoided any trees, rocks, and cliffs, flipped to my stomach and slowed myself down. Then I just slid (controlled) down the hill the rest of the way to meet them at the bottom, I was tired of walking anyway, haha.
Since I was conveniently already at the bottom of the hill, I got some footage of them coming down the final passage. You can see it at 2:29 of the video, it's not my favorite shot, but I had to use it strictly out of principle.
Overall, it was a great trip. Great to get out of the office and back into nature, it really made me miss camping. I think the video came out really well, and also proved that people actually do win these sweepstakes!
Here's some more pictures that I took from the trip: