After a long wait and much ridicule, my old CRT monitor finally crapped out. So while it was sad to see an old horribly flickering friend go, it was time to move on. As my workstation continues to evolve, in addition to replacing the old monitor I decided to get a monitor arm and get the most out of my desk space!
After a little bit of research, I decided on this Dual-Monitor Stand by Tyke Supply. Good price, seemed pretty straight-forward to put together, nice padding so it won't leave marks on my desk. Also picked up a second monitor of the same size as my other one and BOOM, we were ready to go.
Like any geek and his new toys, I was so excited to put it all together, so after it all was delivered I woke up the next morning and got to it. The arm assembled pretty easily, they included all the tools you need to put it all together, and I got the new monitor on in no time. But when it got time for the 2nd arm that's when I ran into problems. I could get the monitor up, however, getting the old stand off the old monitor proved to be a problem.
I left my toolbox at my mom's house after doing some house work over there. So I was left with this horrible view….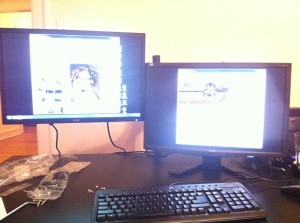 Now if you're like me, most editors and producers need to have everything nice and tidy and in order. So this bugged me beyond anything else. So I was left with two solutions:
1) Buy some new screwdrivers
2) Keep buying more monitors until it eventually evens out
Unfortunately, at the happiness of my wallet, I went with the former of the options.
So a quick trip to the hardware store and we were in business, and I got the monitors up.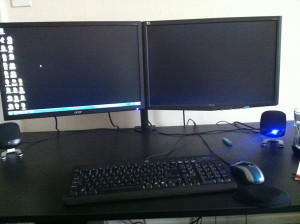 So far, so good, easily adjustable, comfortable when both standing and sitting. I actually have it a lot higher than the previous stands and I can already feel a difference in my neck having the monitors at a proper height. The extra desk space is massive, so I'm definitely loving it so far! Looks pretty sharp too, if I don't say so myself!
Now the part I'm dreading most, carrying that old 19″ CRT monitor down the stairs to take it to the electronics recycling place, gross….