This past week, thanks to my friends at the Midwest Film Festival, I was able to attend an advanced screening of Locke starring Tom Hardy, at the Landmark Century Theater here in Chicago. Unfortunately due to lateness that meant that we had to sit in the very front row, however, that also meant we were in the front row when Writer/Director Steven Knight showed up for a post screening q&a!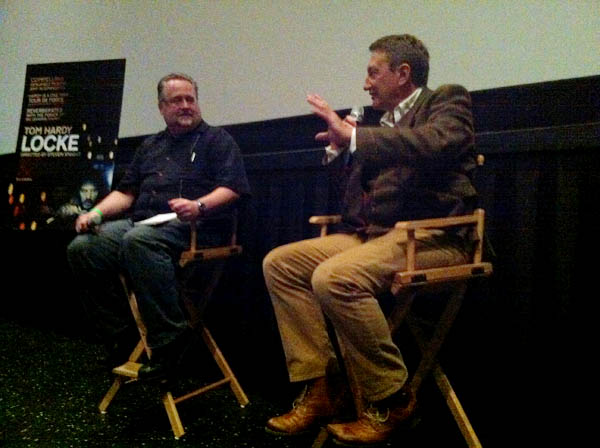 The movie itself was very interesting, I'll do my best to explain it without giving any spoilers. The entire film is Tom Hardy's character (Ivan Locke) going on a long drive, with the exception of the very beginning when he gets into the car, we never leave the car. Over the course of the movie, Locke has various phone conversations via his bluetooth as he handles three various aspects of his life all coming together.
Here's the US trailer for it:
This one character, one location film has been done in the past, but this film may be the best one of all of them. This format can easily be boring or tedious, but Tom Hardy is a fantastic actor and Steven Knight did a great job getting the performance out of him to keep the story intriguing the entire time.
The Q&A was really interesting, not only was it awesome that Steven Knight flew in from the UK, but he handled the questions really well and gave some really good insight into the creative and technical techniques used in the making of this film.
One of the more interesting points was how they filmed it. Since it all takes place in the car and plays out pretty much in real time, they took a different approach to filming. They would set up multiple cameras on the car with Tom Hardy, while the other actors were in a conference room calling in to the car.
They would run through the entire movie multiple times an evening, stopping only to dump memory cards, they shot on Red Epic cameras. I thought that was a really creative way to film, I never would have thought to do that, but in hindsight it makes perfect sense to get the timing down with all the various phone calls.
Speaking of the cameras, the cinematography was pretty spectacular. The film takes place in the evening, so a dark car driving down the highway, I can imagine, was a challenge for cinematographer Haris Zambarloukos. But they did a lot of really interesting things with reflections, and I think some bokeh hoods or filters were used to manipulate the lights in great ways.
I would definitely recommend seeing this film; it has a lot of heart, unique concept, and executed beautifully. It's coming out in the next few weeks here in the US, so definitely check out their website or Facebook if they're playing near you.